H I R O S H I M A
Historic Asian American Band!

successful blend of east and west
The critically acclaim jazz-fusion band from the Asian Pacific American community of Los Angeles' Crenshaw & South Central area opens the door other groups and artists for success in the music industry! Read some of the information about the group and about the Taiko Drum from their website, among other sources.
The lyrical magic of the Koto, the blending of voice and flute, the heartbeat of the Taiko drum, driven by the urban rhythms of jazz and salsa - this is Hiroshima - a musical spirit without boundaries.
Over a recording career spanning more than 18 years, Hiroshima has built a loyal following among discerning music lovers and become one of the most innovative groups in contemporary music.
Emerging from the Los Angeles Japanese-American community, Hiroshima performed extensively in the Crenshaw and South Central area on the Ceta Professional Musicians Program. Honing their musical concepts of multi-culturalism, set in a contemporary jazz vein, Hiroshima recorded its first album in 1979. titled "Hiroshima,"

Their unique sound captivated audiences from coast to coast. They have since released nine CD's and amassed an ever-growing following and an impressive list of awards including: best new jazz group - cash box; jazz breakout artist of the year - Billboard (1980); Grammy nomination (Odori 1981); best live jazz group - cash box (1987); and best jazz album "GO" - Soul Train music awards (1988). The album "GO" captured the number one spot on the Billboard contemporary jazz album charts for eight consecutive weeks. The album "Another Place," included the smash hit "One Wish." Both projects received the coveted "Gold Record," indicative of sales in excess of 500,000 units domestically. Their hit album "East," helped spawn the highly acclaimed musical drama, Sansei, created by and starring Hiroshima, which enjoyed an extended run at the Mark Taper Forum in Los Angeles, becoming one of the top-grossing plays in the history of that distinguished theater.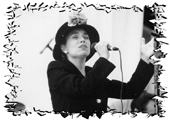 Focusing on the 90's, with releases including "Providence," and a shift in record companies to Quincy Jones' Qwest records and subsequent projects, "Hiroshima LA," and the recently released "Urban World Music," Hiroshima continues to grow musically and spiritually in its artistic exploration of multi-culturalism and musical diversity. Please check out their website by clicking HERE
Read about the various members of the band by clicking below on their name, or click on Kimaya, June and Dan's pictures shown here.
JUNE KURAMOTO (koto, shamisen)
DAN KURAMOTO (saxes, flutes, shakauhachi, keys, vocals)
KIMO CORNWELL (piano, keyboards)
JOHNNY MORI (taiko, percussion)
DANNY YAMAMOTO (drums, taiko, percussion)
KIMAYA SEWARD (lead vocals, violin, synthesizer)
Hiroshima has provided a way for you to hear the various custs from their c.d entitled "Urban World Music", please click HERE. After you have heard the great songs, you can purchase this c.d. by clicking HERE.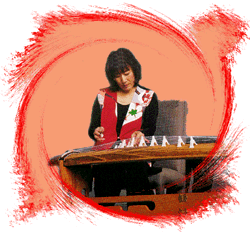 JOHNNY MORI TALKS ABOUT THE TAIKO.
Tai(large, thick, great) Ko (drum). Nobody really knows when it was introduced to Japan. It probably came over with the migration of people from mainland Asia. It is known that the barrel- shaped body originally came from India through China, Mongolia, Southeast Asia and Korea.
The body of the drum (doh) is traditionally made out of one solid piece of wood. The inside cavity is shaped like a ball with the two ends cut off. The hitting surface is cow skin, specially processed and skinned to remove the hair. It is then soaked in water and stretched by extreme pressure over the ends and attached by large headed tacks. The taiko is struck with blunt sticks (bachi ).
Taikos come in a variety of sizes and shapes. Because of this, each taiko has its own name. Odaiko (large drum), Chudaiko (medium size), Josuke (lead drum), Okedo (ropes are used to attach the heads), Shime (small rope tied drum) and Uchiwa (fan shaped and hand held).
Hiroshima at the 2003 Playboy Jazz Festival

Hiroshima was part of a wide spectrum of artists that performed at the 2003 edition of the Playboy Jazz Festival. Click

HERE

to read a review of their performance - along with the other groups.
Taiko, like drums all over the world, are used as a form of communication. It also indicated the size of a village. The village was a large as the range of sound that the taiko could be heard. The taiko was also used in preparing warriors, and the drum led them into battle. Japanese religions used the taiko for various occassions. It was used to help call the gods to bring good luck, to help with the rice harvest or help fishermen have a plentiful catch. It was also used to fight evil spirits and ward off sickness. It was often used as the voice of the Buddha - - to help the individual see himself better.
Japanese taiko is found in many aspects of their culture and performing arts. Many types of theater, like Kabuki and Noh use some form of taiko. Folk festivals (Matsuri ) are where taikos play a prominent role.
Japanese-American taiko is a little different than traditional Japanese taiko, but similar to the modern taiko groups of Japan.
Many groups have formed throughout the United States and Japan, ranging in size from about ten to well over twenty musicians. Their ages vary from kids to older adults. The groups perform songs or pieces that have been composed over the last 30 years, or the groups themselves compose pieces from their own life experiences. The growth of taiko throughout the world has grown many times over in the last ten years.
Japanese-American taiko is different because of the taiko itself. Most of the Japanese-American taiko groups perform on taikos they made themselves from oak wine barrels. The availability of these inexpensive materials (compared to traditional taikos costing thousands of dollars) have made taiko playing in the U.S. very accessible to the people.
Whatever reason one plays the taiko, or listens to the taiko, it has a spirit or calling all its own.


Chat Room for people who can't get enough of talking about Hiroshima, then click HERE.



Any questions regarding the content, contact Asian American Artistry
site design by Asian American Artistry
Copyright © 1996-2003 - Asian American Artistry - All Rights Reserved.